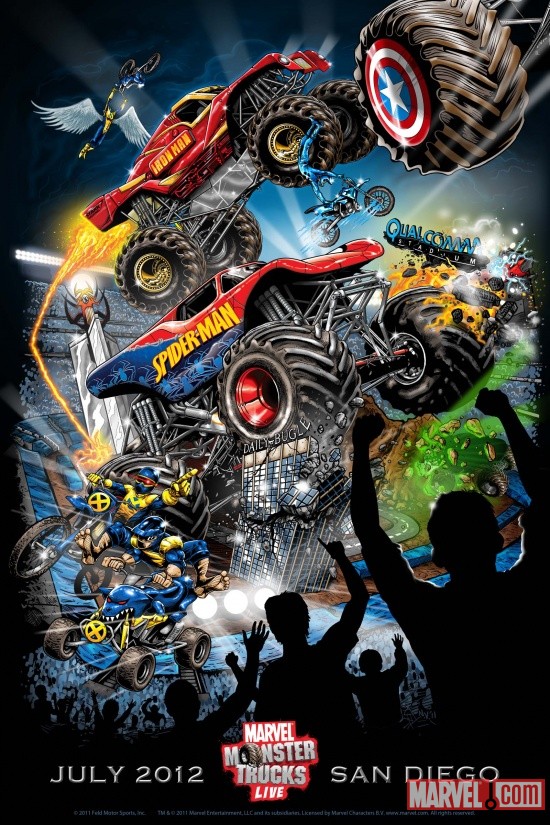 FROM MARVEL.COM:
Hey, True Believers!
We, here at the House of Ideas, have a question for you: WHAT IF Marvel created the greatest Marvel live event of all time with the MARVEL MONSTER TRUCKS LIVE show at
San Diego
's Qualcomm Stadium in July of 2012?
Imagine Marvel Super Heroes, including Iron Man, Captain
America
, Hulk, Thor, Spider-Man and Wolverine roaring to life as carnage-causing 10,000 lb monster trucks!
Picture Qualcomm Stadium completely transformed into the Marvel Universe with buildings, props, lights, and pyrotechnics straight from the comic books and movies!
Envisage a suspenseful storyline that will have you on the edge of your seat, as you witness amazing motorsports stunts and the loudest, most destructive monster truck battles between heroes and villains with the fate of the entire world at stake!
Visualize an interactive Marvel Pit Party that includes monster trucks, Marvel Character appearances, a costume contest, movie props, top comic book writers and artists and much more!
Ya got all of that? Good, now we want your feedback! So please check out the image and video and let us know if Marvel should make this WHAT IF? a reality!