After the death of Ultimate Universe Peter Parker a.k.a. Spider-Man,Marvel has released a new image showing the new Ultimate Spider-Man's awesome costume(rest of article from Marvel.com):
"Marvel has announced that after the shocking events of "Death of Spider-Man", the sold out storyline currently running through ULTIMATE COMICS SPIDER-MAN
and ULTIMATE COMICS AVENGERS VS. ULTIMATES, there will be a new Spider-Man and a new character under the mask. Something's happened to Peter Parker and here comes an all-new Spider-Man…in an all-new costume!
"We called this story 'Death of Spider-Man'
for a reason," said Axel Alonso, Marvel Editor In Chief. "This is a huge story that'll have fans around the world talking for a long time as we set the stage for the debut of our new Spider-Man."
The Ultimate Universe is irrevocably changed with the conclusion to "Death of Spider-Man" in June's polybagged ULTIMATE SPIDER-MAN #160, but right now you can get in on the red-hot story that leads to the birth of an all-new Spider-Man, including new printings of the sold out issues: And to make sure you don't miss a single chapter, pick up all the acclaimed issues below:
ULTIMATE COMICS SPIDER-MAN #153
SECOND PRINTING VARIANT (DEC108349)
Written by BRIAN MICHAEL BENDIS
Pencils by SARA PICHELLI & DAVID LAFUENTE
Rated T+ …$3.99
FOC 4/18/11, ON SALE 5/11/11
ULTIMATE COMICS SPIDER-MAN #154
SECOND PRINTING VARIANT (FEB118263)
Written by BRIAN MICHAEL BENDIS
Pencils by SARA PICHELLI & DAVID LAFUENTE
Rated T+ …$3.99
FOC 4/18/11, ON SALE 5/11/11
ULTIMATE COMICS SPIDER-MAN #155
SECOND PRINTING VARIANT (FEB118264)
Written by BRIAN MICHAEL BENDIS
Pencils by CHRIS SAMNEE
Rated T+ …$3.99
FOC 4/18/11, ON SALE 5/11/11
ULTIMATE COMICS SPIDER-MAN #156
SECOND PRINTING VARIANT (FEB118265)
Written by BRIAN MICHAEL BENDIS
Pencils by MARK BAGLEY
Rated T+ …$3.99
FOC 4/18/11, ON SALE 5/11/11
ULTIMATE COMICS SPIDER-MAN #157
(FEB110524)
Written by BRIAN MICHAEL BENDIS
Pencils & Cover by MARK BAGLEY
Rated T+ …$3.99
ON SALE NOW
ULTIMATE COMICS SPIDER-MAN #158
(MAR110641)
Written by BRIAN MICHAEL BENDIS
Pencils & Cover by MARK BAGLEY
Rated T+ …$3.99
FOC 4/25/11, ON SALE 5/18/11
ULTIMATE COMICS AVENGERS VS. NEW ULTIMATES #1
(of 6) SECOND PRINTING VARIANT (DEC108350)
Written by MARK MILLAR
Pencils by LEINIL FRANCIS YU
Parental Advisory …$3.99
FOC 4/25/11, ON SALE 5/18/11
ULTIMATE COMICS AVENGERS VS. NEW ULTIMATES #2
(of 6) SECOND PRINTING VARIANT (MAR118134)
Written by MARK MILLAR
Pencils by LEINIL FRANCIS YU
Parental Advisory …$3.99
FOC 4/25/11, ON SALE 5/18/11
ULTIMATE COMICS AVENGERS VS. NEW ULTIMATES #3
(of 6) SECOND PRINTING VARIANT (MAR118135)
Written by MARK MILLAR
Pencils by LEINIL FRANCIS YU
Parental Advisory …$3.99
FOC 4/25/11, ON SALE 5/18/11
ULTIMATE COMICS AVENGERS VS. NEW ULTIMATES #4
(of 6) (MAR110639)
Written by MARK MILLAR
Pencils & Cover by LEINIL FRANCIS YU
Parental Advisory …$3.99
FOC 4/25/11, ON SALE 5/18/11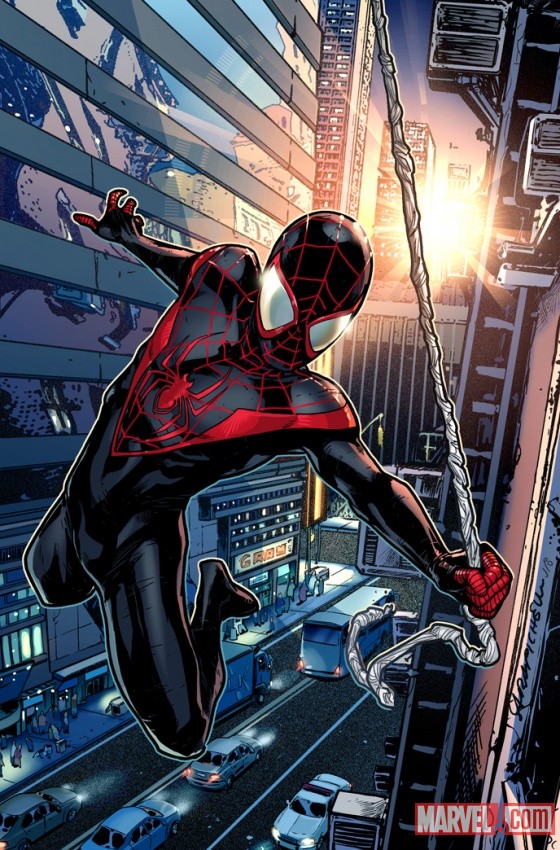 Pretty awesome huh,looks like a Alex Ross/Unlimited Spidey costume mix:
==